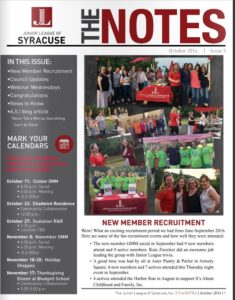 The Junior League of Syracuse newsletter has been bringing members news of interest since 1927. Published throughout the year, The NOTES informs, educates, celebrates, and unifies our active and sustaining members by providing updates about League initiatives and events.
Recent Issues
January/February 2016
December 2016
November 2016
October 2016
September 2016
July/August 2016
June 2016
May 2016
April 2016
March 2016
January/February 2016
December 2015
November 2015
October 2015
September 2015

June 2015
May 2015
April 2015
March 2015
January-February 2015
December 2014
November 2014
October 2014
September 2014
July/August 2014
Are you a business looking to reach 300 central New York women who are highly engaged within our community? The NOTES offers a variety of ad sizes at competitive rates. For more information, review The NOTES advertising contract for general information, publishing schedule, and advertising rates or contact NOTES Editor Heather Ford Wallace.