The Junior League of Syracuse, Inc. (JLS) is one of 292 leagues in the United States, Canada, Mexico and the United Kingdom, with a membership over 150,000 women strong. This collective group is a powerful force for change.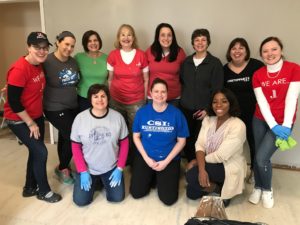 Since our founding in 1920, the JLS has been creating significant change in the Central New York community. Our organization has become a recognized leader for developing and supporting projects that provide meaningful program for women, children and families.
The power of the JLS is fueled by the desire of our volunteers to positively impact our community. Throughout our history, our members have amassed hundreds of thousands of volunteer hours and contributed hundreds of thousands of dollars to organizations that have relied on the Junior League of Syracuse for support during their inception, ongoing maintenance of programs and in difficult times. The JLS's training opportunities, both formal and experiential, help members develop skills that often lead to endeavors which extend beyond our organizations bounds. Indeed, it is difficult to find an organization in the Syracuse area that has not benefited from the involvement of a JLS member.
We welcome you to browse our site and acquaint yourself with the many new and ongoing projects of the JLS. These projects, coordinated by our more than 300 community-conscious members, play a significant role in enhancing the quality of life for women, children and families in CNY.