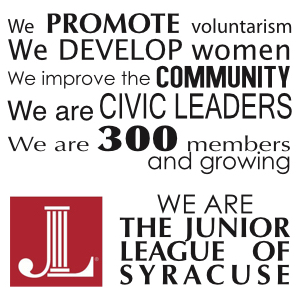 Are you a Syracuse-area woman looking to learn more about the CNY community, access opportunities for development, and grow friendships with like-minded women?  The Junior League of Syracuse hosts a series of membership events designed to introduce prospective members to the JLS and our members in a variety of informal, fun settings. Below please find a sample calendar of events we held in 2016 for the latest member class:
Tuesday, September 13 ~ Member Recruitment Open House (The JLS Office, CNY Philanthropy Center Ballroom, 431 E. Fayette St., Syracuse)

Saturday, June 18, 10a ~ Yoga with the JLS (CNY Philanthropy Center Ballroom, 431 E. Fayette Street, Syracuse)

Sunday, June 26, 12p ~ Wine Tasting at Owera (Owera Vineyards, 5276 E. Lake Road, Cazenovia)

Friday, July 8, 6p ~ JLS After Dark happy hour (315 Brewing Company, 3160 Warners Road, Warners)

Sunday, July 17 ~ Volunteering at the Gillie Girl Triathlon (Veterans Memorial Park, Camillus)

Sunday, August 7 ~ Pure Barre with the JLS (Pure Barre Syracuse, 6819 E. Genesee Street, Fayetteville)

Sunday, August 28 ~ Volunteering at the Harbor Run (Syracuse Inner Harbor)

Wednesday, August 31 ~ Women's Day at The Great NYS Fair (Chevy Court Pavilion – NYS Fairgrounds)

Thursday, September 8 ~ JLS After Dark happy hour (Aster Pantry & Parlor, 116 Walton Street)
For more information contact the JLS Membership Recruitment and Development team at membership@jlsyracuse.org or 315.423.9773.
The JLS new member events are free and open to women with an interest in serving the Syracuse community.