The Junior League of Syracuse Presents the 25th Annual Holiday Shoppes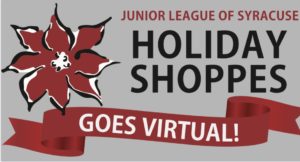 We would like to thank all of our virtual Holiday Shoppes Merchants for joining us for the 25th Annual Holiday Shoppes by The Junior League of Syracuse!
You can shop along LIVE through our Facebook Event from November 6th-8th 2020! Enjoy connecting with your favorite merchants and checking off your holiday gift list! Click the link below to let us know you're virtually attending and you'll find the LIVE shopping there as well!
Junior League of Syracuse's Holiday Shoppes Facebook Page at: https://www.facebook.com/events/362898214900703
*You may click on any of our Merchants below to shop directly through their website.
Thank you to the following merchants as Centennial Sponsors of 2020!
Holiday Shoppes Merchants
| | |
| --- | --- |
| Accessories | Merchant Description |
| Smitten Luxuries | Authentic preowned luxury handbags, wallets, and small leather goods. Specializes in finding rare, discontinued, and classic pieces. |
| We Help Two | Funky Socks for a Cause! Purchase a pack of socks and We Help Two provides a pair of warm socks for the JLS to share with a community partner |
| | |
| --- | --- |
| Beauty, Bath, Body | Merchant Description |
| Beautycounter by Jess and Jenna | Cleaner cosmetics and safer skin care – because beauty should be good for you! |
| Color Street | Dry nail polish strips |
| Mary Kay | Makeup, skincare, body care and fragrances to help women feel more beautiful & confident in the skin they're in |
| | |
| --- | --- |
| Clothing | Merchant Description |
| Amanda Hirko LuLaRoe | LuLaRoe is known for buttery soft leggings but they are so much more! They carry fashion forward pieces for every occasion. |
| Boom Babies | Clothing for ages 18-80! Options for any style from Boho to contemporary to punk. |
| Glow Fashion Boutique | On-trend, contemporary clothing for the modern day woman. They offer a beautifully curated assortment that teaches women how to build a wardrobe. |
| Haute Made | Hand woven clothing, original designs, each piece unique, crafted on a Saori loom, freestyle weaving. Wearable art! |
| Modern Romance | Your online destination for beautiful & cozy loungewear. Their products are stylish and functional. They have  gifts & home goods as well. |
| The Scrub Hub | Medical scrubs, medical accessories, and shoes for anyone in the medical field and beyond |
| | |
| --- | --- |
| Food and Beverage | Merchant Description |
| Anything But Beer | A brewery and restaurant in downtown Syracuse that specializes in gluten free brews and food. |
| Bella-Brooke Vineyard + Winery | A winery in northern New York that raises own grapes and processes their own grapes. |
| Cheese Filled Company | A line of new and exciting cheese filled gourmet products. |
| Chocolate Pizza Company | Over 100 gourmet chocolate specialties including the famous Chocolate Pizza & Peanut Butter Wings, stocking stuffers and beautiful gift baskets |
| Farmer Street Pantry | Traditional & modern orchard fruit recipes crafted using locally-sourced fruit, maple syrup, and cider to help you make something special |
| Irish Bee LLC | A small Veteran owned and operated apiary in Upstate New York specializing in whipped honey and honey products for your home and body |
| Man in the Moon Candies | The place for all your favorite holiday treats from peanut brittle to candy corn |
| Ort Family Farm | Using their own and locally sourced fruit they have created over 100 flavors of fruit jams & jellies |
| Tastefully Simple by Jennifer and Wendy | Crazy delicious, incredibly easy products to make everyday meals, entertaining, and holiday gift giving SIMPLE. |
| Tea-Licious Trendz LLC | The finest 100% organic and fair trade tea blended into palate pleasing healthy teas and herbal tisanes. |
| Thousand Island Winery | The largest producer of wines in Northern New York, producing over 23 different types of red and white wines from dry to sweet. |
| Vermont Harvest | Specialty Food business that specializes in making products that taste good. |
| | |
| --- | --- |
| Gifts | Merchant Description |
| It's About Childhood & Family, Inc. | Inspirational notecards and tee-shirts with proceeds supporting the mission of It's All About Childhood & Family, Inc. |
| Metro Home Style | Gifts and home accessories including gourmet items, home fragrance, bath & body products, holiday and related items. |
| Sunny in the Hollow | Handmade suncatcher and guardian angels in a variety of colors, sizes and themes |
| Usborne Books and More | Exciting, engaging, and educational books, jigsaw puzzles, and learning tools. |
| Walk By Faith, Live in Love | 15 Days of Love, continues to teach readers of all age just how powerful love is using the teaching of Jesus. |
| The White Sleigh Ldt. | A very eclectic mix of women's apparel, funky socks, Christmas items, purses and jewelry |
| WRKDesigns | Handmade gifts for you and your little ones including recycled baby bibs and car seat ponchos |
| | |
| --- | --- |
| Home Decor | Merchant Description |
| Blooms and Blossoms | More than just a flower shop, Blooms and Blossoms is an experience. Offering floral subscriptions, gifts and more. |
| Chalk with Chicken Little | Wholesome and genuine handmade crafts that offer a warm and welcoming feeling to your home (indoors and out) no matter the season. |
| Imperfect Beauty by LDW | Hand painted Mandalas on natural stones, jewelry, home décor, Holiday items, "Paint-your-own" kits and giftware. |
| Pink Zebra | Customized home fragrances including a full line of soy-based, non-toxic products that are long lasting and support our local soy farmers |
| Scentsy | Home and personal fragrances that are innovative and customizable, designed to Warm the Heart, Enliven the Senses and Inspire the Soul |
| | |
| --- | --- |
| Jewelry | Merchant Description |
| Huitzilin Arte Mexicano | Fair-trade, high-quality, unique handicrafts made by Mexican artisans |
| Imagine | Artisan made jewelry and crafts from local, national, and international artisans |
| Jelly Bean's Artistry | Jewelry and decorative items painted in the fluid painting style, some of which include beading around the jewelry pieces |
| Luna Fortuna Jewelry | One-of-a-kind pieces that represent the language of nature, and the confluence of color, culture, and adornment. |
| Paparazzi Accessories/Adorned by Qadosh | Lead-free & Nickel-free fashion jewelry for women, men/boys and girls. Zi Collection offers statement pieces that are also lead-free & nickel-free. |
| Songbird Healing Crystals | Unique wire-wrapped crystal and gemstone pendants and crystal trees created using only genuine, natural crystals and gemstones. |
| | |
| --- | --- |
| Kitchen Accessories | Merchant Description |
| Pampered Chef | Products for making Cooking and Baking fun and easy by providing inspiration and tools for everyone. |
You can also support the JLS by purchasing socks from We Help Two.
Funky Socks make a great stocking stuffer, gag gift or even a fun self-treat! A portion of the proceeds stay with The Junior League of Syracuse and is put directly back into our mission and vision — of improving the community and enriching the quality of life for women, children and their families in the Central New York community.
On top of that, in return, We Help Two provides us with a pair of warm winter socks for every 3-pack of funky, fun socks we sell. We then donate these socks to our community partners to distribute to those in need.