Announcing the Salt City Summit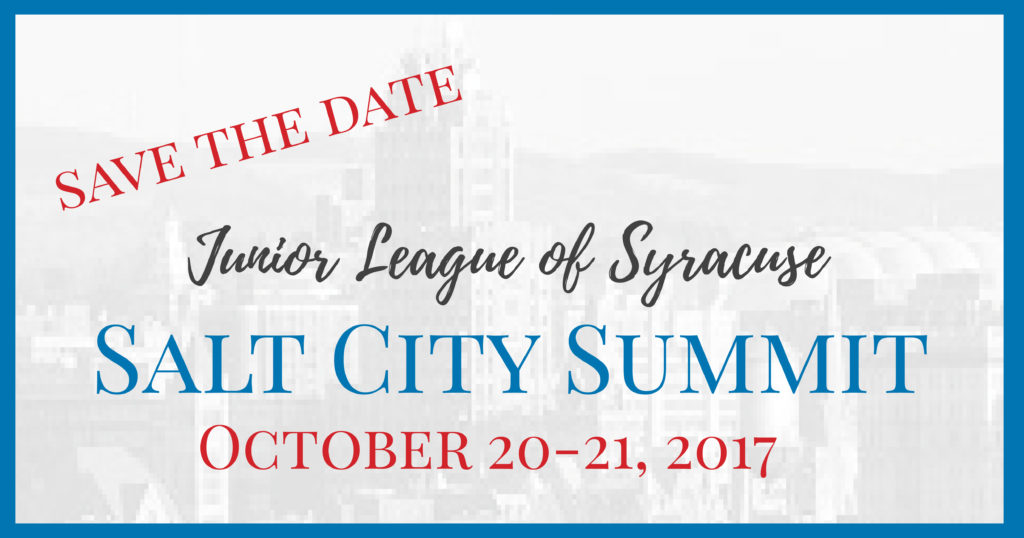 The Junior League of Syracuse invites you to come together with active and sustaining members of northeastern and mid-Atlantic Junior Leagues for a Regional Training!
The Salt City Summit will feature AJLI's Amber Levy, Director of Membership, who will lead a session about AJLI's new Membership Model.  Also featured will be Lisa Vaughan, Past President of the Junior League of Evansville, who will present Mission Fundraising: Basic and Beyond. Sustaining members will participate in a session that will re-energize their commitment to lifelong learning and support of their League's active members.  All sessions will be interactive and participatory in nature.
Join Us in Syracuse!
Saturday, October 21, 2017 *
Training location: Marley Education Center
* Pre- and post-training activities will be available Friday and Sunday for Junior League members attending training
Conference Details and Registration
The Salt City Summit includes a full day of sessions on topics including member engagement and fund development.  We invite you to visit the training website for schedule information, session descriptions, and registration details.
Conference registration opens August 25, 2017.  Take advantage of early-bird pricing effective through September 29, 2017!
Early Bird through September 29: $80     |     After September 29: $100
A room block been secured for Salt City Summit attendees at the Jefferson Clinton Hotel. Call (315) 425-0500 for reservations at the special Junior League rate ($169/night, including breakfast).
SaveSave
SaveSave
SaveSave
SaveSave
SaveSave
SaveSave
SaveSave
SaveSave
SaveSave
SaveSave
SaveSave
SaveSave
SaveSave
SaveSave
SaveSave
SaveSave
SaveSave
SaveSave
SaveSave
SaveSave