Junior League of Syracuse Opens 2019-2020 President Search
Are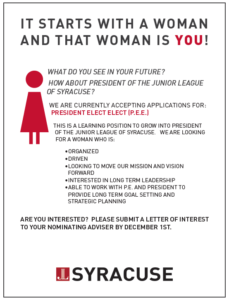 you interested in becoming the next President of the Junior League of Syracuse? We need you! The nominating team is now slating for the President Elect Elect (P.E.E) position to serve as President for the 2019-2020 Term.
THIS IS A LEARNING POSITION TO GROW INTO PRESIDENT OF THE JUNIOR LEAGUE OF SYRACUSE.
WE ARE LOOKING FOR A WOMAN WHO IS:
Organized
Driven
Looking to move our mission and vision forward
Interested in long term leadership
Able to work with President Elect (P.E.) and President to provide long term goal setting and strategic planning
Check out this Flyer for more information about helping to drive our mission and vision forward by becoming a part of our Leadership team!
ARE YOU INTERESTED?
Please submit a Letter of Interest to your Nominating Advisor by December 1, 2017